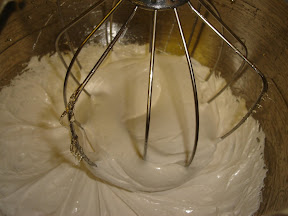 Ever since I saw notmartha make marshmallows I have been wanting to make them, but never could as I didn't own a standmixer. Now that Tinkerbell is here I've been waiting for the time (and the courage) to make marshmallows. The Nervous Chef gets especially nervous when recipe instructions involve pouring 230+ degree hot syrup into a mixer running at full speed.
The recipe then says to pour the mixture into the pan. I couldn't pour it. It was more of scooping it into the pan. The result: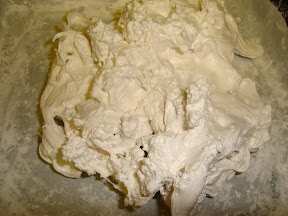 What could have happened?
I didn't have a candy thermometer, I used a digital meat thermometer
I was so scared of accidentally pouring hot syrup on me that I poured it into a pyrex measuring cup and when I was pouring it into the bowl it already cooled down quite a bit.
I read the directions again. Water and gelatin – check: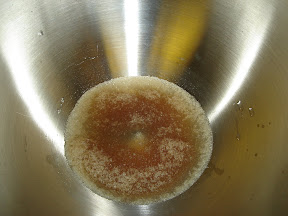 Sugar, corn syrup, and water – check: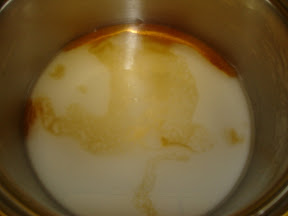 Wait a minute…did I add all the corn syrup? I look at my 1/2 cup measure and it's bone dry. Apparently it's best not to try and make marshmallows at 1:30 a.m. While my marshmallows are er…organic looking, they still surprisingly taste like marshmallows. They kind of remind me of the jumbo puff marshmallows I used to eat as a kid.
Making the marshmallows was a bit messy for me. I'm a very messy baker, but after sifting all that rice flour/confectioner's sugar on the marshmallows, my table looked like Amy Winehouse had been partying here.
I plan on trying to make these again soon. I will not be defeated by this.
I used the smaller version of Brownie Points vanilla marshmallows. I sifted the rice flour/sugar combo on a greased pan and then tapped the excess out. I like the marshmallow recipes that don't use eggs as those are best eaten within 2-3 days. Frankly, eating an entire pan of marshmallows is pretty disgusting. If I'm sacrificing flavour not including eggs, so be it.
More on marshmallows:
Cooking for Engineers does marshmallows
Alton Brown's marshmallow recipe
Mama Reiner's marshmallow cream on marthastewart.com
Mama Reiner's chocolate fudge on marthastewart.com
Mama Reiner's chocolate covered marshmallows on marthastewart.com
Martha Stewart's marshmallows
by